Large Chicken Coop - Windsor
Regular price
$193.00 USD
Regular price
Sale price
$193.00 USD
Unit price
per
Sale
Sold out
Delivery

We aim to dispatch in-stock orders within one working day and deliver them within 4 working days. 

We offer a doorstep delivery with 'The DX' and tracking will be provided via email.

All items arrive flat-packed and require assembly; instructions & fixings are included.

If the product is advertised as a 'pre-order', it will be dispatched once available, and you will be notified via email as it leaves us.
Warranty & Returns

 We offer a one-year warranty against manufacturing defaults across our entire range; This includes faulty design, materials, or workmanship. It does not cover damage caused by wear and tear, which includes damage caused by animals, weather or where the item has been modified.

 You are welcome to return any unused, unopened item within 14 days of delivery if you change your mind. Where we arrange collection, a small collection charge is applied.

Any item delivered with a fault or damage should be reported within 7 working days, and we will endeavour to find an acceptable solution as quickly as possible. 

 You can find our full T&Cs here.
Maintenance

All of our outdoor pet homes arrive ready to be positioned outside once assembled and are pre-treated with a water-based preservative. We advise a yearly maintenance routine which includes checking latches and mesh for security and applying a layer of water-based wood preservative.

By adequality caring for and maintaining your pet home, you can expect the most extended lifespan possible, and you will ensure your pets are kept as safe as possible. 
THE WINDSOR COOP FEATURES
Slide out galvanised tray for easy cleaning.
Twin section nest box with hinged locking roof.
Two internal roosting perches.
Sliding door between the coop and the run that keeps your birds safe at night.
Tongue & groove construction throughout.
The roof is not felted to prevent red mite infestation.
Secure wire mesh and latches to help keep your birds safe from predators.
For even more space an extra extension run is available, please see our chicken runs.
Flat packed with all the fittings and clear instructions.

Wire mesh is approx 1.2cm square
The Feel Good U.K Windsor Large Chicken Coop is one of our best-selling coops with an integrated run. The coop offers a strong solid frame, built by our skilled craftsmen. Designed with sliding doors and a slide-out tray to make cleaning easy. The chicken coop has an external nesting box with two internal sections, two roosting perches and all fittings and instructions are included.
The coop has an integrated run for the times when your birds can't be free-range.
Share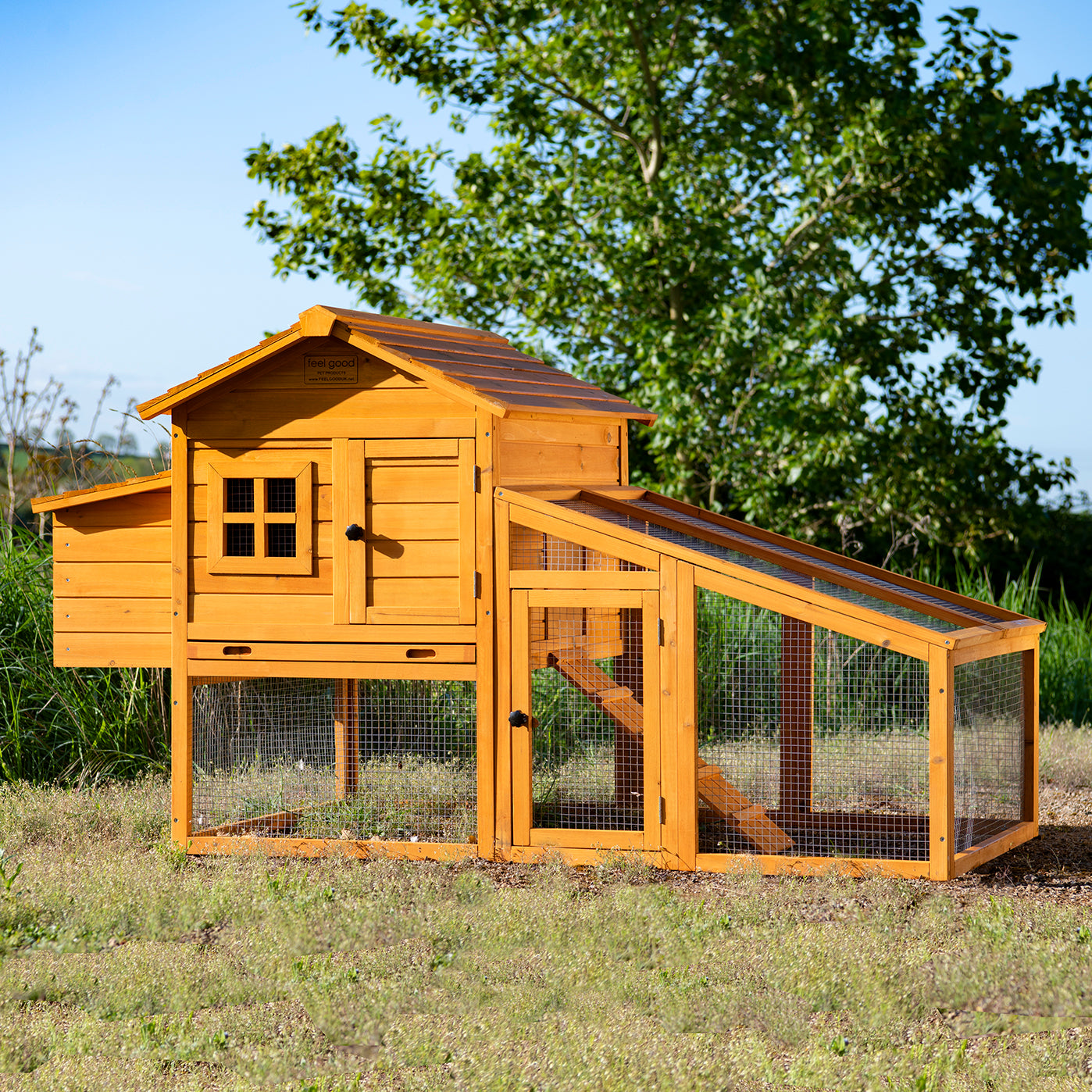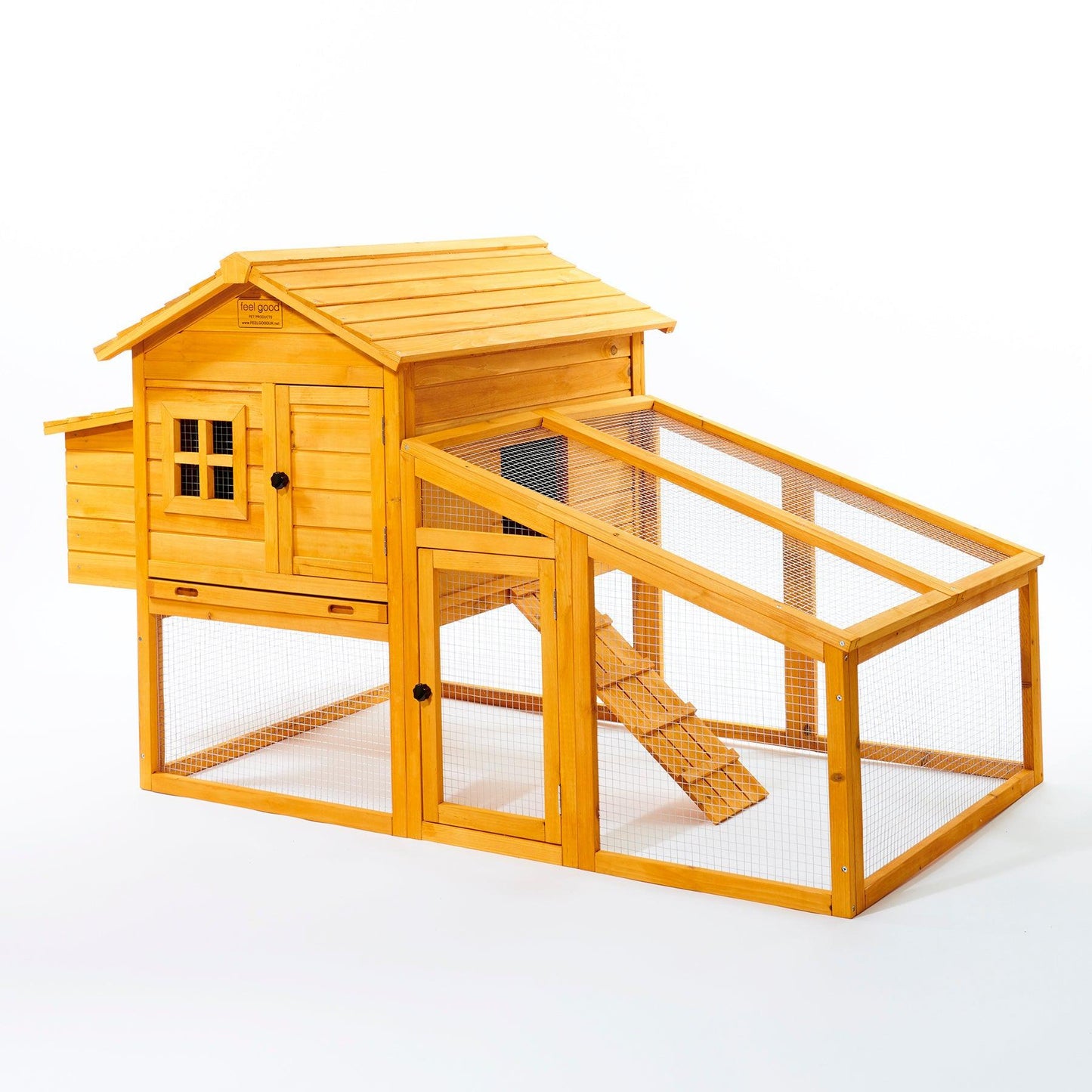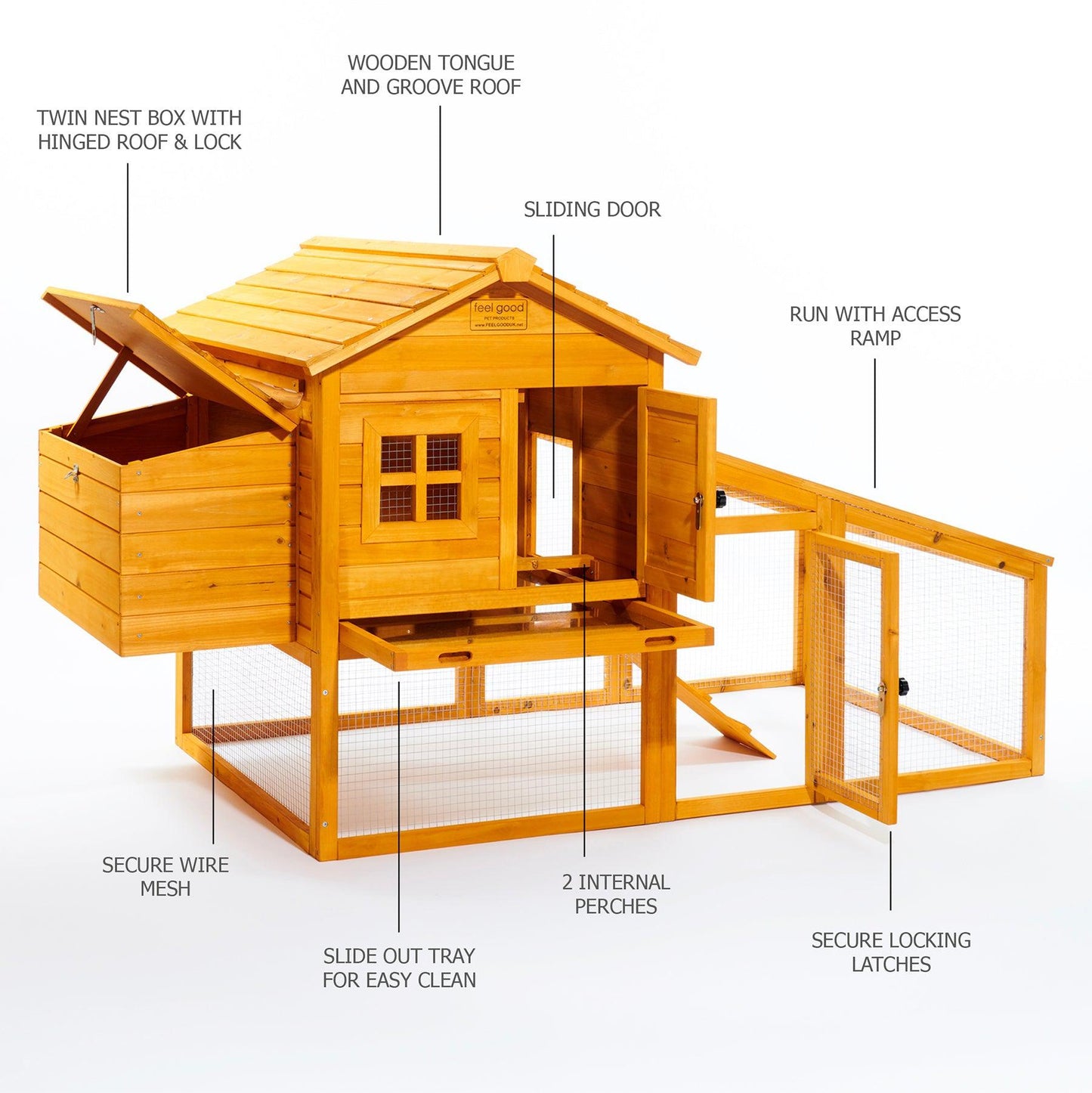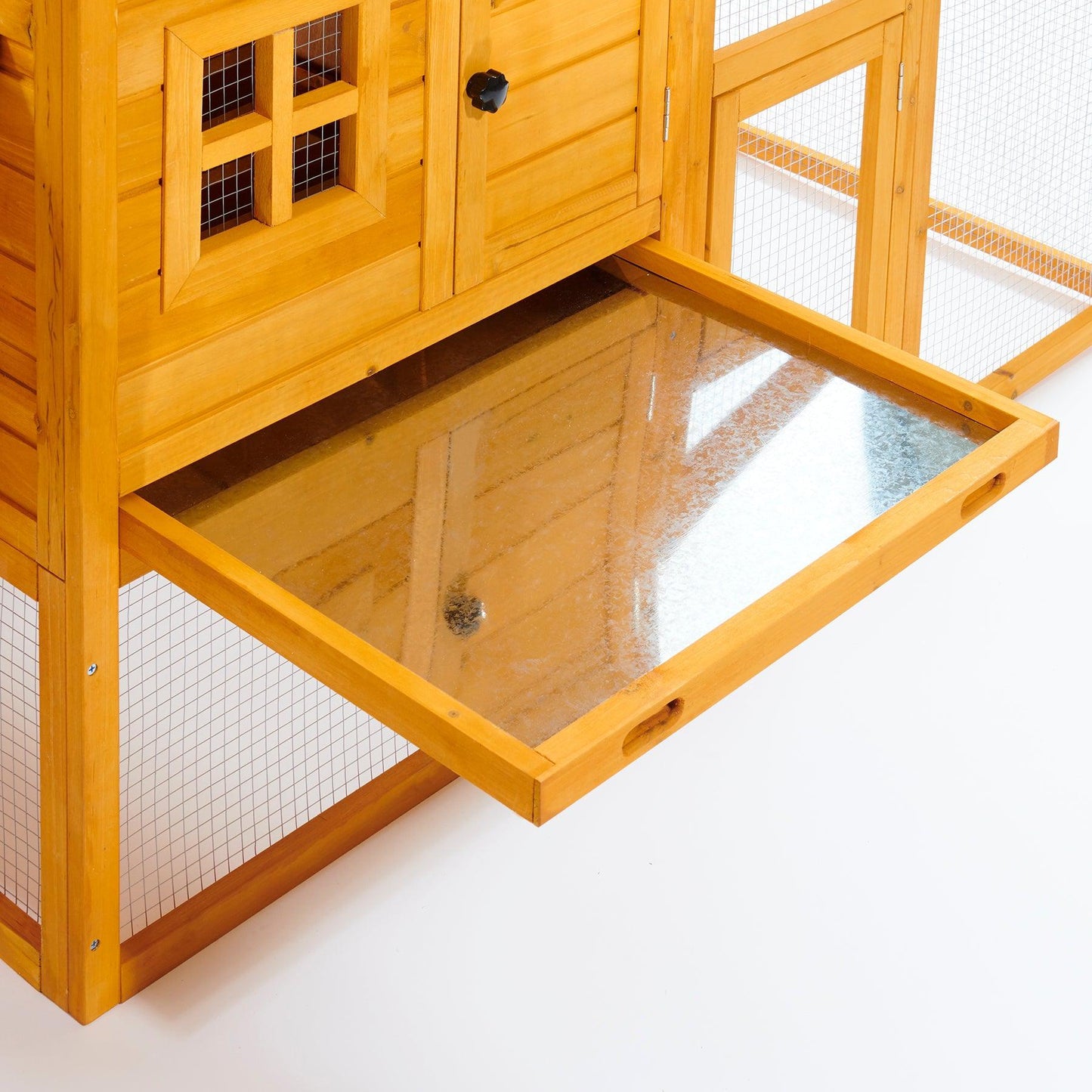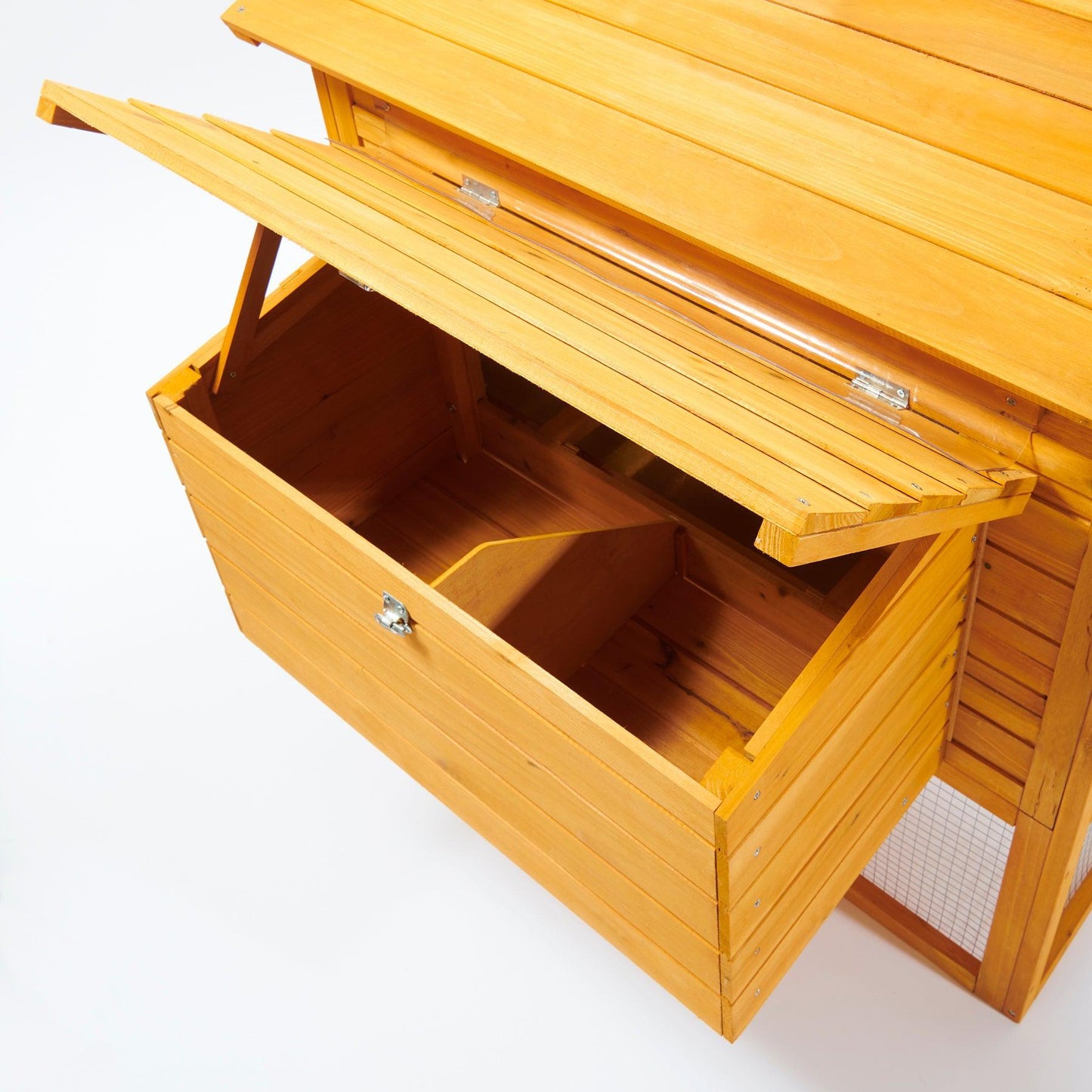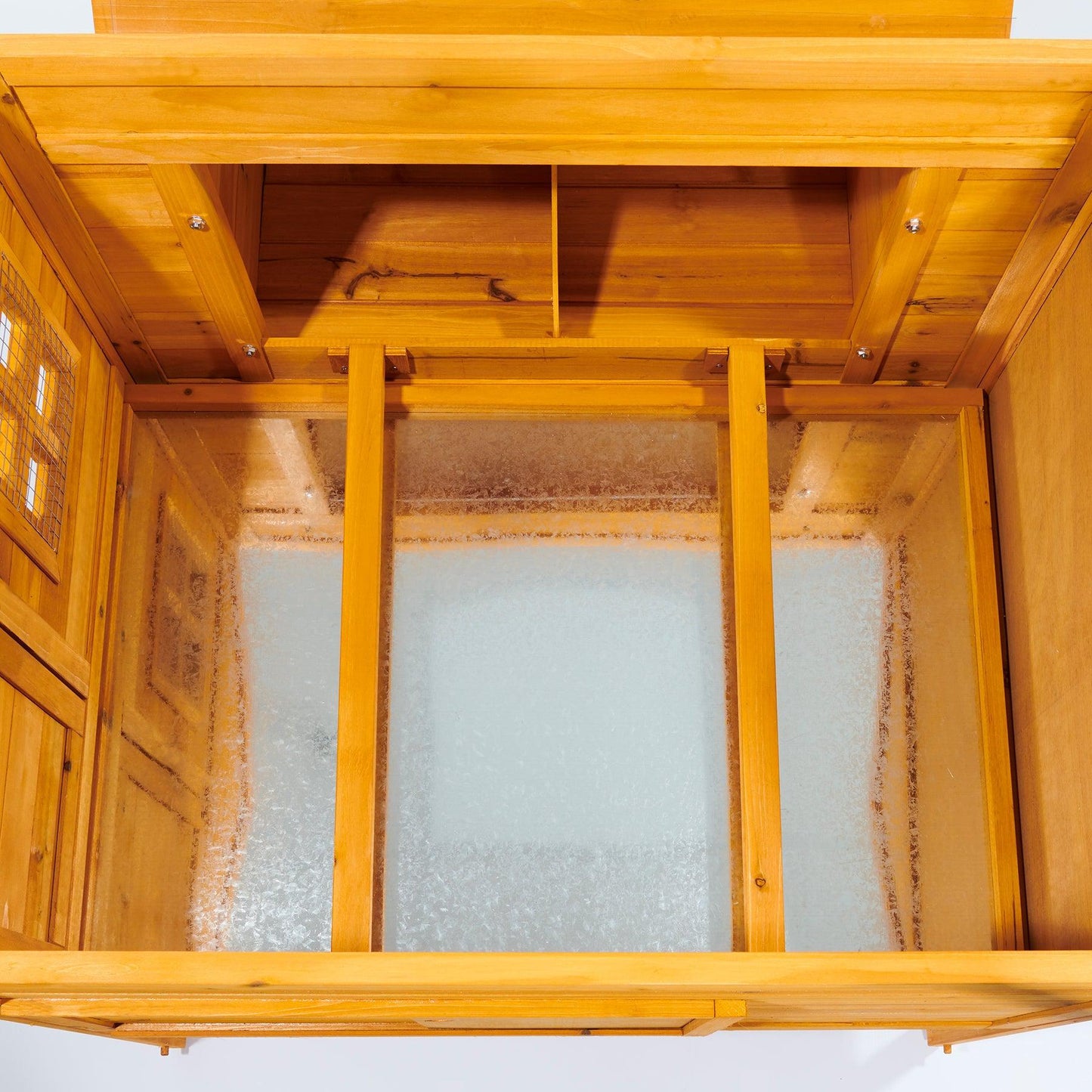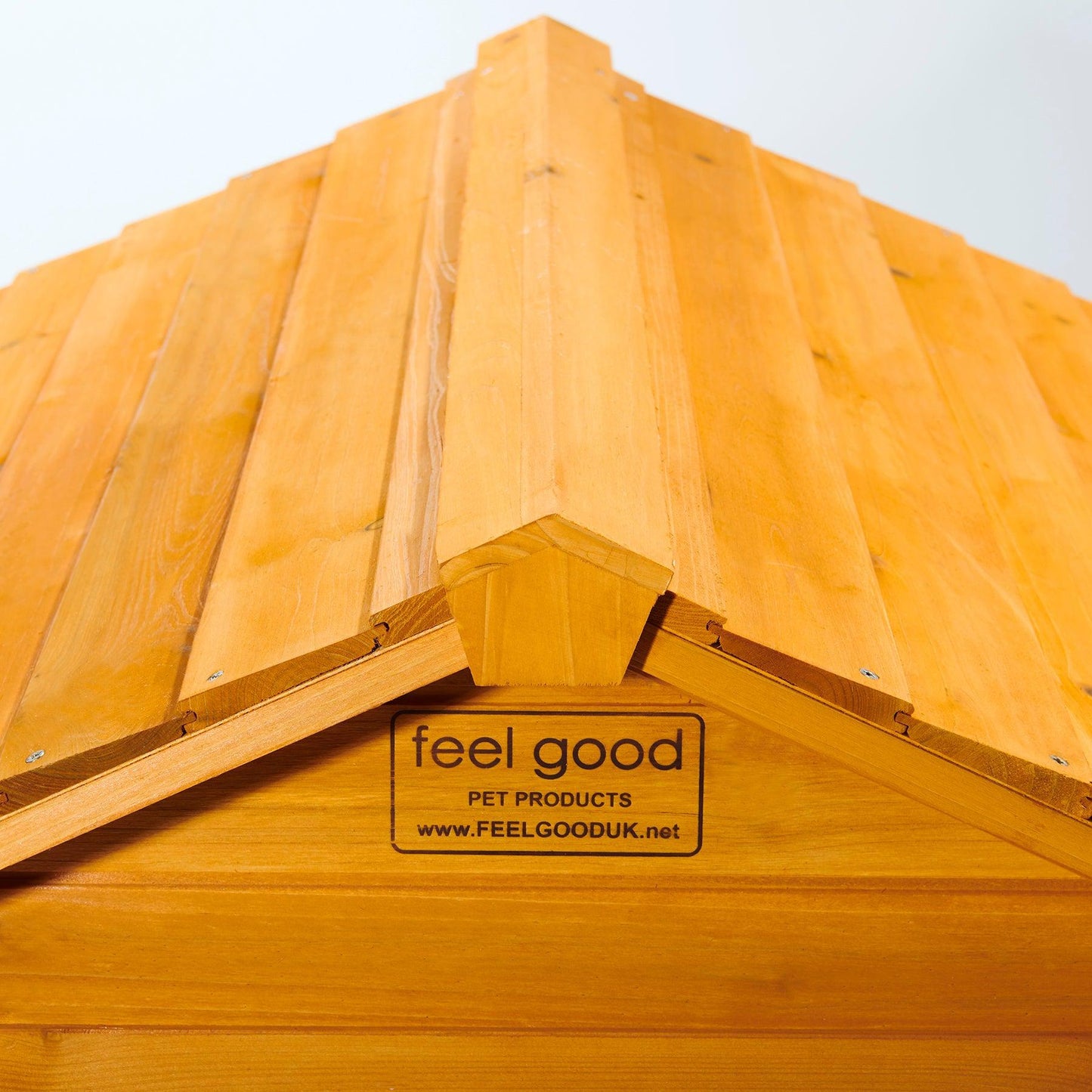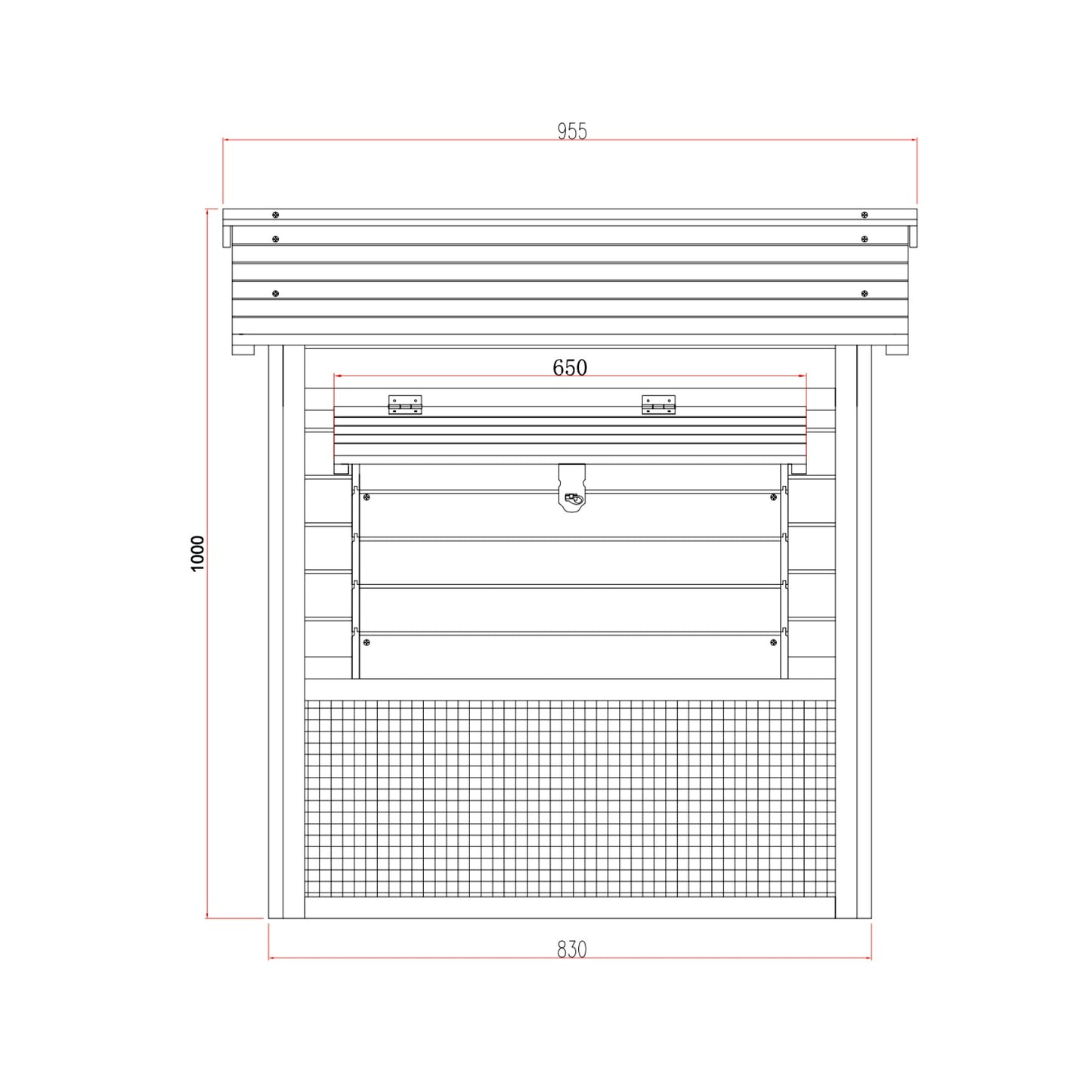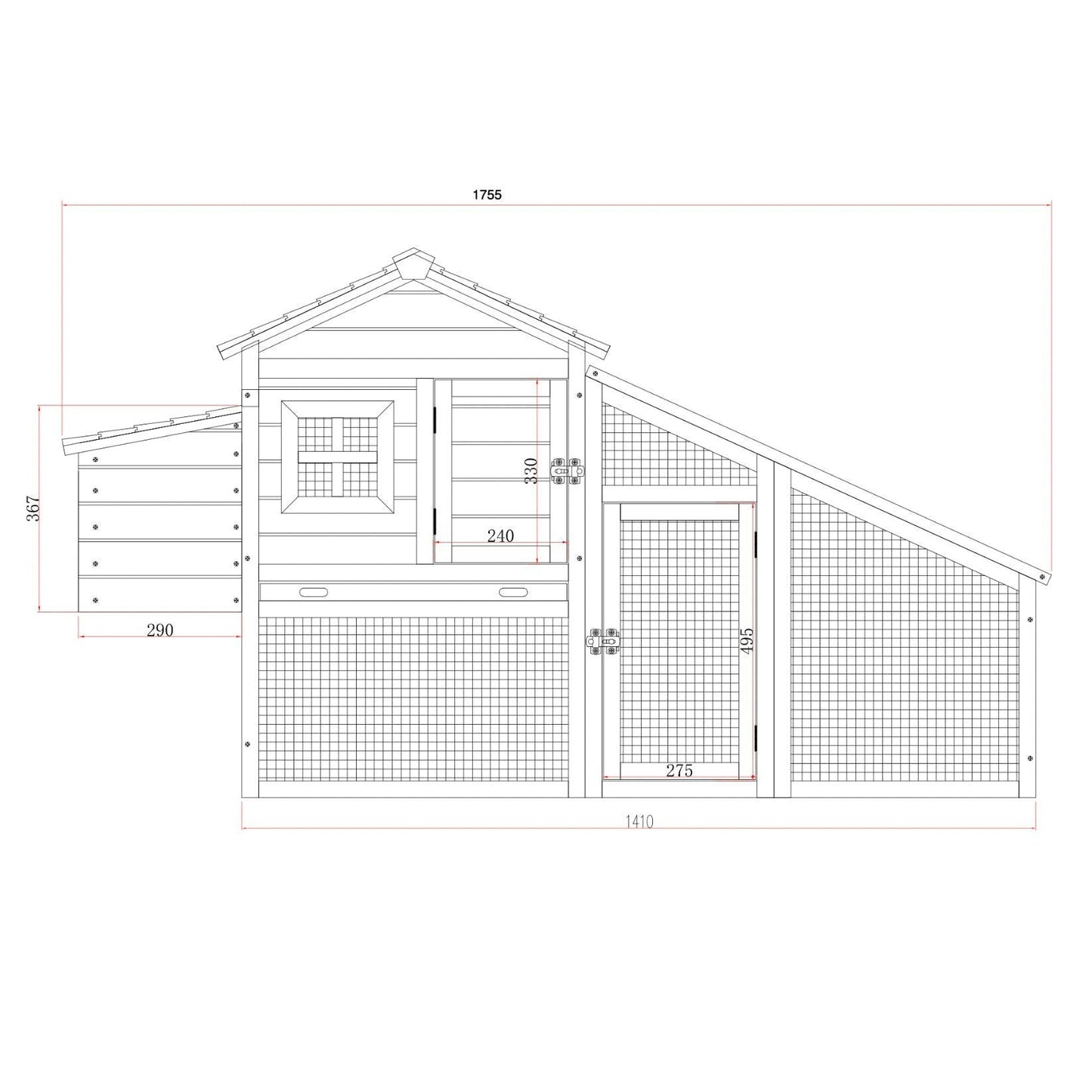 Windsor large chicken coop
I've had this coop for a couple of years in its box and I decided to construct it this week
The wood seemed quite thin and flimsy, so I screwed tantalised roof batons to the bottom of the coop to protect the wood in the coop, so it won't be getting damp from the ground
I also put two coats of Sadolin wood preservative on all the panels before I started to screw it together to make sure it was well protected
It was easy enough to put together, and nothing was missing. I didn't like the door catches provided, so I just used them as a door knob, and purchased barrel bolts for the top of the doors and then thumb screws at the bottom for extra security
I lined the litter tray and nest box with flooring vinyl so it's easier to clean, and I added two pull handles to the litter tray so it was easier to pull out. Once constructed I gave the exterior an extra coat of wood preservative.
It's not a bad chicken pen, and it's ideal for the Dutch Gold Bantams I put in there
Easy to Build and Great for a Small Flock
I bought this coop in April, along with an extension pack. I also bought wood protection prior to use to ensure it remained waterproof and in good condition (from a local hardware shop).Pros: Really easy to build and put together. It is lightweight enough that I can move it around the garden (preferably with someone else) to prevent the destruction of one area. When I went away for a weekend, I moved the coop down to my parents so they could let them in and out easier. It would be fantastic as a broody pen or for someone bringing chickens to shows etc. The chickens enjoy sleeping in it and perches can be removed. The window makes it really handy to look in at night and ensure they are all in ready for close-up.Cons: I have four hens and it really is not big enough to house them all day. I can pop them in for an hour or two if I am away. However, any longer and tensions are high - they began pecking each other during the weekend away as they were frustrated. I have made some adjustments to make this easier: bolts, instead of the rotating locks on the handles, a piece of string linked to the top to make it easier to hold the nest box door open for cleaning. It is quite difficult to clean out - the sawdust catches on the coop above the board as it's not quite deep, and it would have benefited from the window panel opening also.
Lovely chicken coup
We purchased this chicken coup for our 4 chickens. It was easy to put together, looks nice, and they seem very happy. We have just bought the extended run too. Really happy with the quality of the product. Quick and easy delivery Would definitely recommend.
New Review
Really great value for money, we have added the extension to so there is now plenty of space for our birds. Quick delivery as well.
New Review
First time chicken owner and I'm really happy with my coop. Easy enough to put together, I'm a single mum and it was straight forward.
Here's a little more about the Windsor Chicken Coop
ESSENTIAL FEATURES: The solid wooden framed chicken coop is made with attractive tongue and groove panels. It includes a twin section nesting box, secure outside run area, ridged access ramp, sliding access door between house and run for securing overnight, 2 x roosting perches and an easy clean slide out tray.
FUNCTIONAL DESIGN: The external hen nest box features two nesting sections and a lid prop allow for the easy collection of fresh eggs as well as making it easy to clean. The slide out galvanised cleaning tray in the house section helps to ensure the coop is easily and thoroughly cleaned. Multiple locking doors allow you to access the nestbox, coop and run easily when changing bedding, food and water.
PET PRIORITY: Keeping your chickens happy is top of our list when it comes to the design of our coops. The Windsor model features 2x internal roosting perches inside the coop for your birds to sleep at night keeping them secure. The Windsor Chicken Coop comes with a run for your birds to safely scratch around in and the run has a locking door that can be left open if you want to provide a free range option throughout the day. A nestbox that has been carefully designed and includes a weather strip to prevent water dripping down into the coop.
PEST & PREDATOR SECURE: Our solid wood tongue and groove roof does not have felt on, this is essential for preventing a red mite infestation. We urge you consider this as a priority as red mite is common occurrence in coops and will usually mean having to discard the coop to get rid of the infestation. All woodwork is Jointed, Sanded and Screwed and is finished in an attractive tongue and groove style. Secure wire mesh and latches features throughout to keep birds safe from predators.
Why Invest In A Feel Good UK Chicken Coop?
Our Story

Our story begins over 30 years ago, in the very same building we work from today, and whilst the products we sell have changed our core beliefs remain the same as when we manufactured homewares in the 1990's.

Our Mission

We believe in delivering functional, quality products that improve the way you live and the lifestyle you want to create; whether that's spending more time on your allotment or introducing chickens to the family.

Our Promise

We care about customer service, we're on hand before, during and after your purchase with us to offer advise and support however you need it.
Let customers speak for us