How To Plant & Grow Herbs In Containers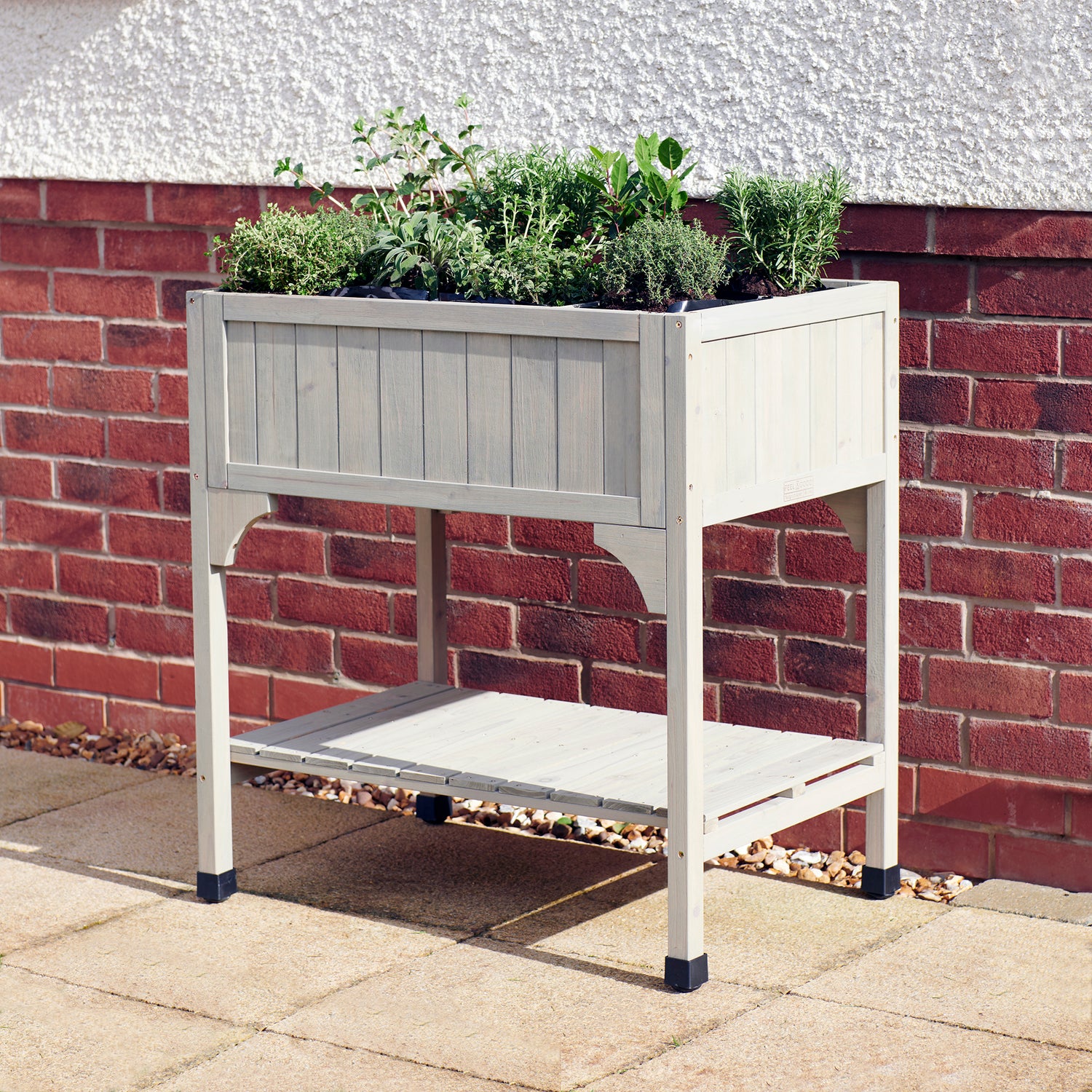 Planting & Growing Herbs: The benefits
If you find yourself regularly adding herbs to your trolley in the supermarket, you've likely thought about how easy or hard it is to grow them yourself at home. Apart from the obvious financial benefit of having a selection of fresh herbs at your fingertips instead of buying them every few weeks, you can also benefit from the richer and more satisfying flavour of knowing they are homegrown.

If you are already a keen gardener then adding herbs to your patio or garden should come relatively easily, and if you are new to growing your own or it's your first time experimenting with a small balcony or patio then we have some tips and tricks to get you started.
How To Choose Which Herbs To Grow
The most commonly used and grown herbs here in the U.K are a mix of Mediterranean herbs such as Rosemary, Thyme and Oregano along with annual or biannual herbs such as Basil, Dill, Parsley and Coriander.

Most herbs thrive in a sheltered but sunny spot, the Mediterranean herbs do best with well-drained soil that avoids becoming waterlogged - this makes them ideal for planting in containers.

The annual herbs such as Basil and Coriander should be planted from seed every 10-14 days to ensure a continual supply throughout the season.
The benefit of choosing to grow your herbs in a raised bed or container is that you get a lot more control over the quality and drainage of the soil, although care should be taken over very dry spells to avoid them drying out. Even if you have a very small patio or balcony starting your growing journey by growing herbs is a great way to learn the basics.
How To Grow Herbs In A Container
Most herbs are suitable for growing in containers, and you can usually grow from seed or pot plants brought from the garden centre. Beware that supermarket-bought plants are often not suitable to be planted outdoors as they are initially grown quickly in heated conditions!

The more tender herb seeds such as Basil and Corriander should be sown indoors until they are better established and all risk of frost has passed; you can then harden them off during the days before finally plating them out in their containers. If you are choosing to buy plants from a garden centre, hold off until towards the end of Spring as their roots may be too tender to thrive.

Deeper pots work well for herbs and you should aim to fill them with 2/3rds compost and then top with horticultural grit or perlite which will help aid drainage.

Hardier perennials such as Sage and Rosemary can be left potted for several years making them a worthwhile investment.

Our 6-section wooden herb planter is a great way to get started with growing herbs, compatible with our cold frame topper it is the perfect way to create a sheltered environment to get your growing started as early as possible and extended for as long as possible once the temperatures start to drop.
Herb Growing Tips
Basil

Grow in light, well drained soil but do not allow to dry out.
Sow seeds regularly throughout the season to ensure a continuous supply.
Leaves can be used fresh or dry

Rosemary

Position in a well drained container in a sunny spot.
Will need shelter over colder season to prevent prolonged frost
Can remain potted for several years.
Stems and leaves can be used fresh or dried

Parsley

Pot in a rich, well drained soil and position in sun or part shade.
leaves should be picked just before flowering to be used in cooking.

Coriander

Ensure the container is well drained, the plant likes full sun but partial shad can be beneficial to.
Stems and leaves are often used in Thai cooking.
Seeds are worth harvesting for cooking to.

Thyme

A super hardy herb that does well in well drained soil but otherwise can cope with poor/stony soil.
Leaves can be used fresh or dried in cooking.
Trim back after flowering to maintain structure.
Cold Frames & Herb Planters
Regular price

Sale price

$69.00 USD

Unit price

per

Regular price

$169.00 USD

Regular price

Sale price

$169.00 USD

Unit price

per
Garden & Allotment Polytunnels
Let customers speak for us
Please get in touch with any questions;