Plastic Chicken Coop and Run
Regular price
$187.00 USD
Regular price
$101.00 USD
Sale price
$187.00 USD
Unit price
per
Sale
Sold out
Delivery

We aim to dispatch in-stock orders within one working day and deliver them within 4 working days. 

We offer a doorstep delivery with 'The DX' and tracking will be provided via email.

All items arrive flat-packed and require assembly; instructions & fixings are included.

If the product is advertised as a 'pre-order', it will be dispatched once available, and you will be notified via email as it leaves us.
Warranty & Returns

We offer a one-year warranty against manufacturing defaults across our entire range; This includes faulty design, materials, or workmanship. It does not cover damage caused by wear and tear, which includes damage caused by animals, weather or where the item has been modified.

 You are welcome to return any unused, unopened item within 14 days of delivery if you change your mind. Where we arrange collection, a small collection charge is applied.

Any item delivered with a fault or damage should be reported within 7 working days, and we will endeavour to find an acceptable solution as quickly as possible. 

 You can find our full T&Cs here.
Maintenence

All of our outdoor pet homes arrive ready to be positioned outside once assembled and are pre-treated with a water-based preservative. We advise a yearly maintenance routine which includes checking latches and mesh for security and applying a layer of water-based wood preservative.

By adequality caring for and maintaining your pet home, you can expect the most extended lifespan possible, and you will ensure your pets are kept as safe as possible.
THE WINDSOR HYBRID COOP FEATURES
Wooden frame with twin wall polycarbonate panels – easy to clean and maintain.
Slide out galvanised tray for easy cleaning.
Secure wire mesh and latches to help keep your birds safe from predators.
Nest box with lift open roof.
Internal perches for roosting.
Extra extension run available.
Flat packed with all fittings and clear instructions.
Wire mesh is approx 1.2cm square
od U.K Plastic chicken coop is a low-maintenance version of our traditional wooden coops. The plastic chicken coop is set in a solid wood frame for stability, but the panels are twin-wall polycarbonate which can be wiped down and maintained easily.

The chicken coop includes a roosting perch, a slide-out tray to make cleaning easier and durable wire mesh on the integrated run. The roof is non-felt to prevent mites. The coop features an external nest box with two internal nesting areas and an extension pen can be added for the times your birds cannot be free range.
Share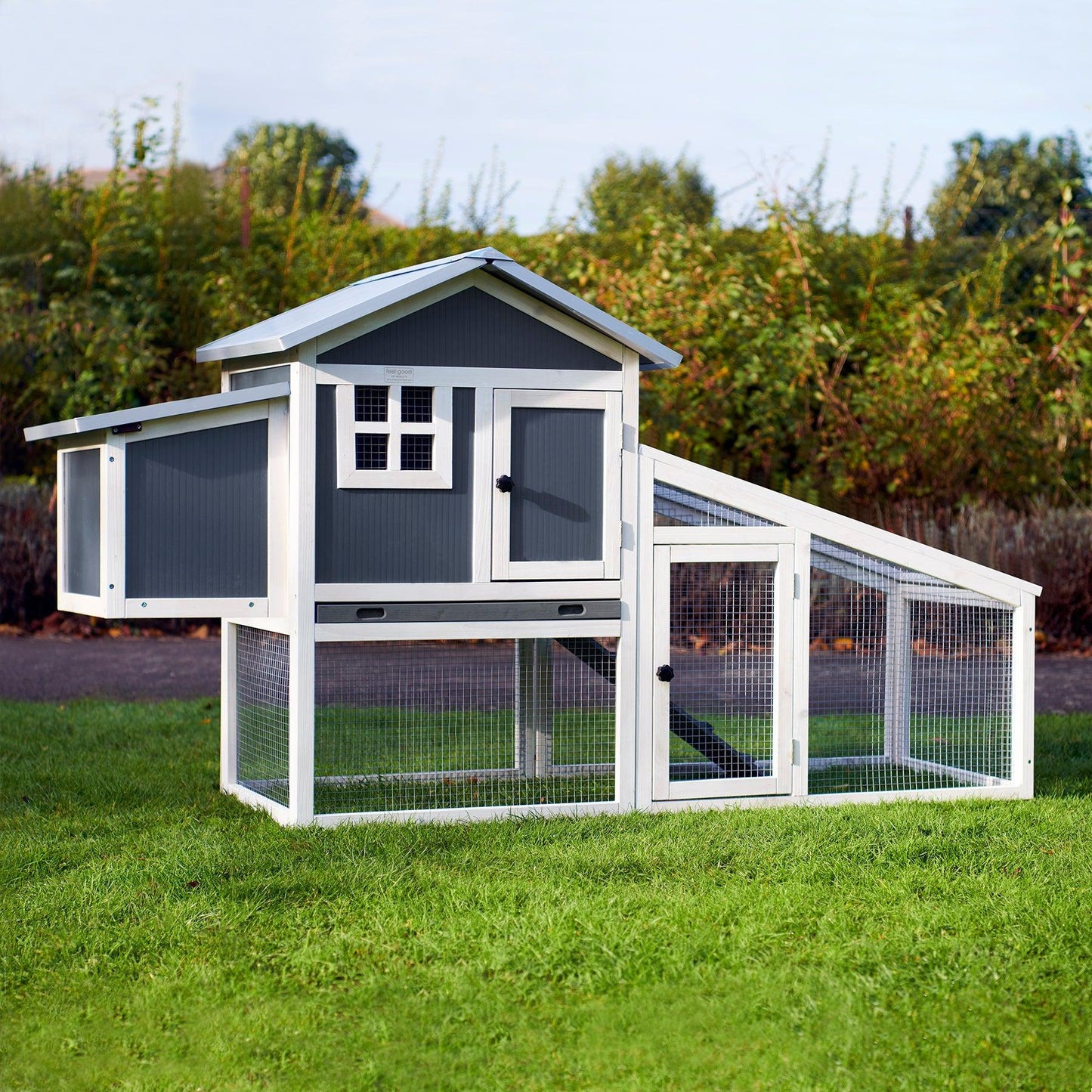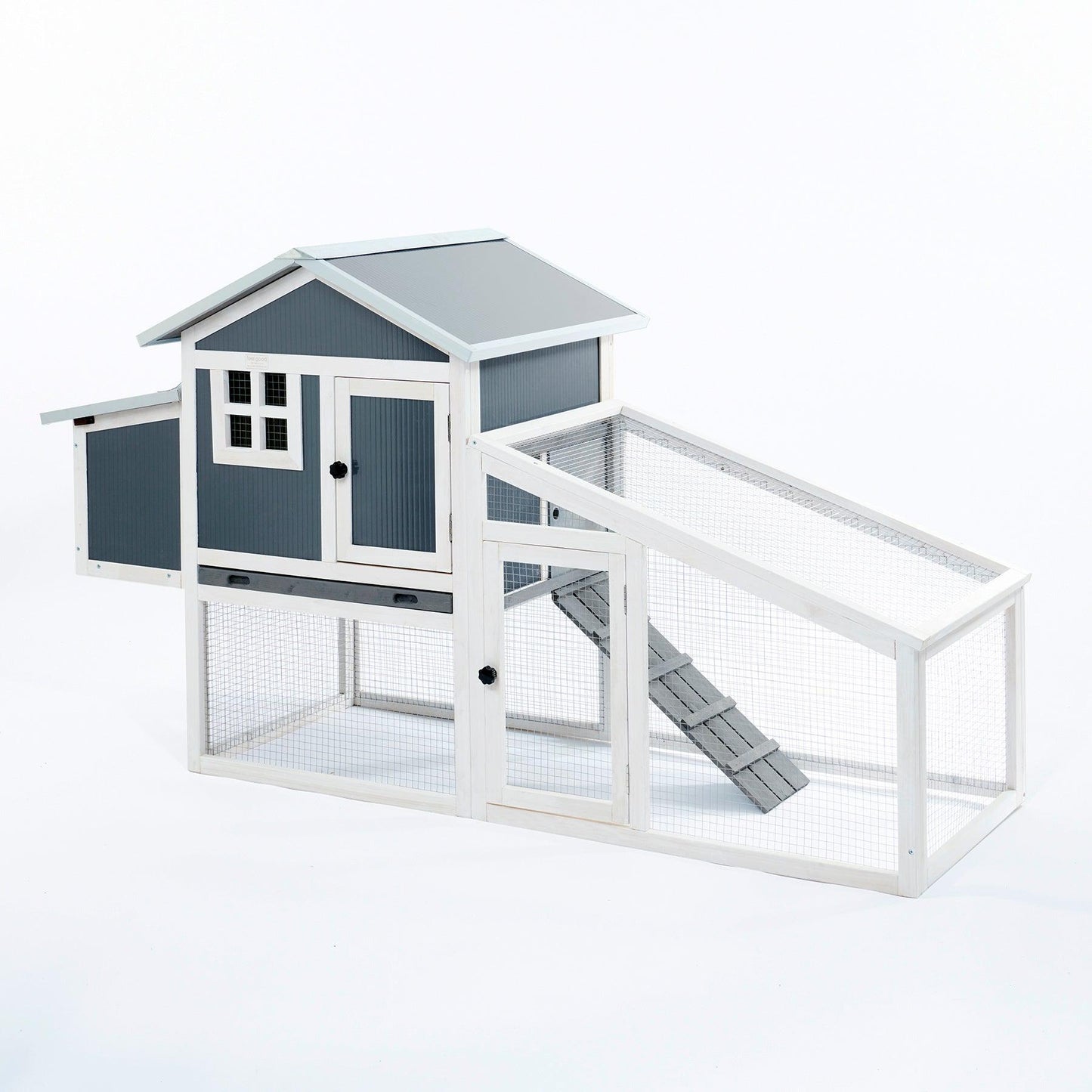 Let customers speak for us
Here's a little more about the Windsor Plastic & Wood Chicken Coop
ESSENTIAL FEATURES: The Hybrid version of our popular Windor range combines the solid wood frame with easy-clean twin wall plastic panels. It includes a single section nesting box, secure outside run area, ridged access ramp, sliding access door between house and run for securing overnight, a single roosting perch and an easy clean slide out tray.
FUNCTIONAL DESIGN: The external hen nest box features a single nesting section and a lid prop allow for the easy collection of fresh eggs as well as making it easy to clean. The slide out galvanised cleaning tray in the house section helps to ensure the coop is easily and thoroughly cleaned. Multiple locking doors allow you to access the nestbox, coop and run easily when changing bedding, food and water.
PET PRIORITY: Keeping your chickens happy is top of our list when it comes to the design of our coops. The Windsor Hybrid model features a single internal roosting perch inside the coop for your birds to sleep at night keeping them secure. The Hybrid Chicken Coop comes with a run for your birds to safely scratch around in and the run has a locking door that can be left open if you want to provide a free range option throughout the day. A nestbox that has been carefully designed and includes a weather strip to prevent water dripping down into the coop.
PEST & PREDATOR SECURE: Our plastic panelled roof does not have felt on, this is essential for preventing a red mite infestation. We urge you consider this as a priority as red mite is common occurrence in coops and will usually mean having to discard the coop to get rid of the infestation. All woodwork is Jointed, Sanded and Screwed and the plasitc panels are dual layered to help insulate the coop. Secure wire mesh and latches features throughout to keep birds safe from predators.
Wooden frame
I bought this in good faith that it would be made from plastic however the frame is flimsy and wooden
Pretty but not comppratical.
Firstly a disclaimer; we bought this "2nd hand" from someone who had been completely unable to figure out how to put it together, so it was new but we paid only £200 for it with the extension and just had to correct the original buyers build mistakes. We aren't sure why they couldn't put it together as it was easy enough? We popped our 3 10 week old hybrids into it and they are now mature laying hens and absoutely thriving. The nest box is a little small if 2 want to lay at the same time, but there is plenty of room in the actual coop for 3 large hens, we can't understand what others are saying that it's too small? However, even with the extension run, we felt their outside space was far too limited and have purchased an much larger extension for another type of run which we converted to fit, so they now have far more room when confined to the run. It is not the easiest coop to clean tho. The slide out tray has a metal base but is framed in wood which expands both with urine and in damp weather, meaning it doesn'tslide smoothly. The nesting box has a thin wooden base-we solved this by putting a seed tray in it to fill with straw, but it seems poorly thought out in the first place. Finally access to the main body of the coop is difficult for cleaning; it is still wooden framed, despite the plastic walls, so cleaning needs to be thorough to prevent mites. A hinged roof would've made all the difference. It looks attractive and if it's a feature of your garden it's not a bad compromise as ths hens really are very well in it, but be aware of the trade offs.
New Review
Excellent coop for smaller bantam breedsQuick deliveryRecommended
Why Invest In A Feel Good UK Chicken Coop?
Our Story

Our story begins over 30 years ago, in the very same building we work from today, and whilst the products we sell have changed our core beliefs remain the same as when we manufactured homewares in the 1990's.

Our Mission

We believe in delivering functional, quality products that improve the way you live and the lifestyle you want to create; whether that's spending more time on your allotment or introducing chickens to the family.

Our Promise

We care about customer service, we're on hand before, during and after your purchase with us to offer advise and support however you need it.